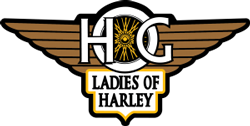 Ladies of Harley Activities
LOH meeting:
November 30th - CHRISTMAS PARTY
Time: 7:00 p.m. - Food Provided
Location: Top Golf, 10690 Palm River Rd., Tampa, FL 33619
Please bring a wrapped Christmas ornament.
November:
Dealer Appreciation Day - Potluck for all our employees at BHD - Bring a throw away container
December:
Humanitarian Award Presented at Chapter Chirstmas Party.
January:
LOH Meeting: Tuesday, 1/10/23
Destination: TBD
Ride Safe and keep applying your Sunscreen.
Smiles are always WELCOME.
If you are not receiving emails from the LOH email address, please see me.
See you all soon.
Denise Bell
(973) 534-7728