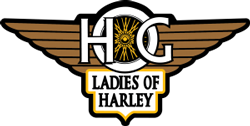 Ladies of Harley Activities
LOH Meeting: Aug 6th - 7 pm @ Villiage Inn - 1995 W Lumsden Rd, Brandon, FL 33511. The meeting will start when the riders arrive.
Self-Defense Class: Aug 7th - 7 pm @OTBHD (point given for everyone who shows)
Bunco Game Night: Aug 10th - 6pm @ Valerie Novakoski's house - 6414 Maiden Sea Dr, Apollo Beach, FL 33572
Please come out and join us in the very fun night out with the Ladies! If you've never played Bunco before, don't worry, it's super easy to learn and one of the best times you will have with your clothes ON! Please bring your favorite appetizer or dessert to share and drink of your choice. I will provide water and soft drinks, i will have soft drinks and water, anything stronger you are welcome to bring.

Please RSVP by Aug. 8th, as we need to know how many tables to set up.
LOH Officer
Cathy "Cat" Hutchinson
813-957-6041
This email address is being protected from spambots. You need JavaScript enabled to view it.

Dealer Appreciation Luncheon: Aug 24th from 1pm-4pm @ OTBHD
**(please bring a dish to share with these amazing employees of our dealership, I will need
some volunteers to help setup, serve, & cleanup, you will need to be available from 12:30-4:30)
**(please bring a dish to share with these amazing employees of our dealership, I will need
some volunteers to help setup, serve, & cleanup, you will need to be available from 12:30-4:30)
SAVE THE DATES:
Escape Room: TBD (Time TBD) Legends Escape Rooms (952 W.Brandon Blvd. Brandon) – $30.00 per person (paid in advance)
Check the Ride Calendar for additional details.
We are always planning more LOH events. Be sure to check back again later.
Cathy Hutchinson,
LOH Officer
This email address is being protected from spambots. You need JavaScript enabled to view it.
813.957.6041
---