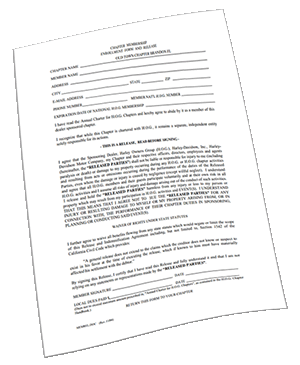 2024 OLD TOWN CHAPTER MEMBERSHIP

Like what you see?

Are you a Member of the National Harley Owner's Group?

Membership forms will be available at: www.oldtownhog.com.

You will then need to enclose a signed membership form and a check for $30.


Mail to:

Membership officer:
Kathy Reimann

19001 5th ST N.E., Lutz, FL.33549



Remember, if you want your birthday in the newsletter, you will have to give it to Kathy to provide to me.

Chapter Membership Enrollment Form and Release (PDF)
According to H.O.G.® guidelines, you must be a current national H.O.G.® member. If you are not a national H.O.G.® member, visit the National H.O.G.® Website or call 1-800-CLUBHOG to join.
If you have questions about becoming an OTC member, contact This email address is being protected from spambots. You need JavaScript enabled to view it..