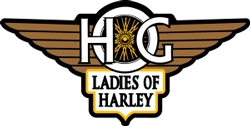 Cathy Hutchinson,
LOH Officer
This email address is being protected from spambots. You need JavaScript enabled to view it.
or 813.957.6041
Welcome
Our next meeting will be held on April 10 at 7:00pm. Check the Ride Calendar for location details.
April 11, 7 p.m.
40th Anniversary of GREASE! Brandon Regency, $13.38 per ticket
They are showing this for 2 dates ONLY and the first date is sold out, so hurry and get your tickets. **Bring a friend, a loved one, or just yourself. All is welcomed for the viewing of this great movie. Website: FathomEvents.com (upcoming events)
April 18, 6 p.m.
OTBHD Training room. SELF-DEFENSE Training class.
May 4 - 6
Girls weekend getaway We have a few more openings, if anyone is interested. The cost is $60. You can Contact Me (813-957-6041) Or Leslie (Slider) Monroe (813-476-5836
---